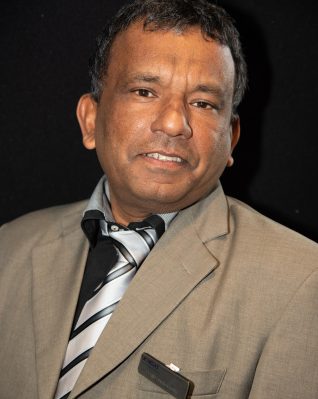 CURRENT POSITION
PROFESSIONAL CAREER
Over 25 years experience in various clinical and academic roles. Over 15 years post-doctoral experience in clinical microbiology including virology, molecular biology and bioinformatics with a chartered scientist (CSci) and fellow status.
Has supervised over 30 post graduate research projects. Has widely published in peer reviewed journals and has been a recipient of several competitive research grants and contracts.
Works in joint collaboration with Public Health England (PHE), World Health Organisation (WHO), Centre for Disease Control and Prevention (CDC) (Atlanta), European Centre for Disease prevention and Control (ECDC), International Atomic Energy Agency (IAEA), South African Development Community (SADC), Indian Ocean Commission (IOC) Surveillance Epidemiologique Gestion des Alertes (SEGA), Institut de Veille Sanitaire (IVS- France), Institut Pasteur, Ministry of Health and Quality of Life (Mauritius) on various health related topics and collaborated internationally.
Occupied the following posts:
Director - WHO National Influenza Centre (Mauritius)
Adviser to Ministry of Health and Quality of Life (Mauritius)
Departmental head (Molecular Biology and Virology)
Lecturer in Molecular Medicine and Biomedical Sciences (University of Essex)
Senior Lecturer and Knowledge Exchange and Business Fellow (University of Westminster)
Clinical microbiologist (Royal Free hospital).
OTHER PROFESSIONAL ROLES INCLUDE
Reviewer for various peer review journals:   Journal of Clinical Pathology,  Journal of Clinical Virology, Infectious Agents and Cancer, British Journal of Biomedical Science, Internet Journal of Medical Update, BioMed Central  Infectious Diseases, European Journal of Clinical Microbiology & Infectious Diseases and KURIR
Membership to various professional organisations:

International Society for Influenza and other Respiratory Viral diseases (ISIRV)
European Society for Clinical Virology
Royal College of Pathologists
Microbiology Society (previously Society for General Microbiology)
Institute of Biomedical Science
UK Proficiency Testing Working Group
European Quality Assurance in Laboratory Medicine (EQALM) organisation
Association of Clinical Microbiologists.