Digital & Interpretive EQA | UK NEQAS Webinars


We are delighted to announce that all 4 Digital & Interpretive EQA webinar recordings, originally broadcast live in September, are now available to watch!
Each recording is packed with educational content and knowledge, as we hear from 6 expert guest speakers, over 4 sessions. And each webinar recording lasts just under 60 minutes.
Click here to find the recordings on our YouTube channel, or scroll down and click on a particular topic to reveal the recording.
An Overview of Digital & Interpretive Pathology
Day: Monday
Date: 6th September 2021
Time: 14:00-15:00 (UK)
Guest speaker: Professor Jo Martin
Platform: Zoom
Click on the thumbnail to watch the webinar recording: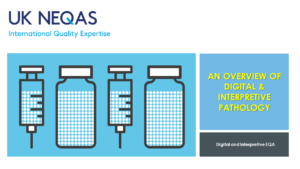 The Use of Digital Pathology – Now and in the Future
Day: Monday
Date: 13th September 2021
Time: 14:00-15:00 (UK)
Guest speaker: Dr Bethany Williams
Platform: Zoom
Click on the thumbnail to watch the webinar recording: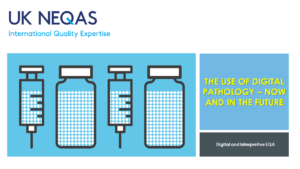 The Use of a UK NEQAS Digital System for Training and Individual Competency Assessments
Day: Monday
Date: 20th September 2021
Time: 14:00-15:00 (UK)
Guest speakers: Richard Haggas (UK NEQAS Blood Transfusion Laboratory Practice) and Kerry Dowling (Southampton General Hospital)
Platform: Zoom
Click on the thumbnail to watch the webinar recording: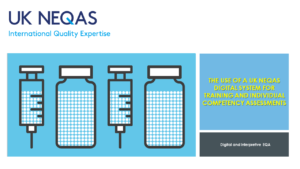 Accreditation of Digital & Interpretive Methodologies
Day: Monday
Date: 27th September 2021
Time: 14:00-15:00 (UK)
Guest speakers: Alyson Bryant (UKAS) and Rob Hughes (UK NEQAS Cellular Pathology Technique)
Platform: Zoom
Click on the thumbnail to watch the webinar recording: